Distant Healing

The restrictions brought about by the pandemic provided me with the opportunity to develop my distant healing practice.
Healing exists in another realm, outside of time and space, so works wherever you are.

It has been wonderful to find that it works so effectively at a distance. These are challenging times for us all, and I am grateful to be able to offer these sessions and be of service when it is so needed.

I offer Healing sessions in real time but at a distance, in the comfort of your own home.

We have a conversation either by phone, Whatsapp or Skype and then, with the technology off, we start the session.
I will ask you to lie down at home, while I send healing, making sure you are warm and comfortable and will not be disturbed.
When I am finished giving healing, I will ring you back to discuss the experience and pass on any messages or suggestions I have for you.

An article about my distant healing work was published in the Daily Mail in November 2021.
Click here to read the article


"I've literally just had a session, and I feel TOTALLY different from before." AD

"I had a healing session with Abigail via Skype. It was a truly amazing experience. I could feel her energy working on me generally on my body but also specifically on certain areas. Abigail is the real deal and can clearly make an energetic connection at a distance. After the session and for the following several days, I felt lighter, with more clarity of mind, and happier. I'd highly recommend Abigail's remote healing sessions to everyone." TM

Click here to read more testimonials

Click here to email me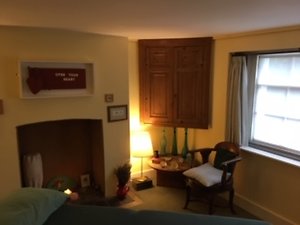 My fees
My fee for a session is £90

If your income is low, you can pay a concession fee between £40 and £70, depending on your circumstances. Whatever feels manageable for you.

You can pay me by bank transfer or I can email a link from my card reader for you to pay by card.

I also offer gift vouchers.